Club History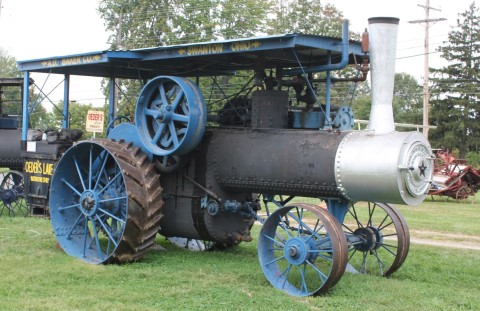 HISTORY OF THE FORT ANCIENT RESTORED MACHINERY CLUB
The Fort Ancient Restored Machinery Club was established in 1983 by a group of former members of the Antique Machinery Club of Warren County. Locating at Ceasars Creek Pioneer Village and adopting the name Ceasars Creek Pioneer Village Old Machinery Days.
This group of individuals each year held the Old Machinery Days show the third weekend in August at Ceasars Creek Pioneer Village through 1994.Ten shows in all with growth of membership and exhibitors each year.
During 1994 differences of opinion between Pioneer Village trustees and the Old Machinery Club arose and after the show in August it was then decided it was time to part ways. Along with the separation came a drop in membership and exhibitors, two years of trying to find a new home, and reorganizing under a new name.
The Fort Ancient Restored Machinery Club name was chosen due to the proximity of the club members at the time to Fort Ancient State Park and it also making an acronym F.A.R.M.
Two years, two locations, both near Lebanon. 1995 at Hidden Valley Fruit Farm and 1996 at the former Lebanon Expo Center grounds. Both locations proved not suitable for growth of a machinery show.
Early in 1997 the search went on and through the efforts of some of the members of The F.A.R.M. club and also key members of The Antique Machinery Club of Warren County a meeting was arranged with Richard, Les, and Mary Oeder to talk about a joint venture show located at Oeders Lake. The Oeder family already owning a steam traction engine and several other pieces of equipment were very receptive to the idea of having an antique machinery show at their place. After a couple of meetings to work out details the first Old Machinery Days was set to take place August 15,16, and 17th. 1997.
This first show although small was foundation for a great working relationship between the Oeder family and the F.A.R.M. club.
Since that time the Fort Ancient Restored Machinery Club has held a show and tractor pull the second weekend after Labor Day each year since.
Each year the Fort Ancient Restored Machinery Club tries to improve the quality of the show to make it more enjoyable for our exhibitors and visitors. From events for exhibitors to demonstrations for visitors and over the years more and varied vendors.
Things that make putting on the show easier, safer, and more enjoyable for club members while setting up tearing down and during the show are also continuously in our plans.
Thanks to the hard work and commitment of many current and former members The Fort Ancient Restored Machinery Club hopes to continue holding the Old Machinery Days at Oeders Lake for many more years.
According to our records the Founding members of Fort Ancient Restored Machinery Club are: BILL BORS, GENE AND MARGIE BUSTLE, TOM AND CINDY GENTRY, RUSS AND JUDY MCGUIRE, HENRY AND DORA GENTRY, BOB AND DEBBIE BOWLES, JIM AND LINDA HURST AND FAMILY, MARK WIEDERHOLD AND FAMILY, BRYAN WIEDERHOLD, JIM WIEDERHOLD AND FAMILY, BRYON MITCHELL AND FAMILY, BRAD AND RENEE HARPER, HOMER AND BECKY HARPER AND JAMIE , SAM AND JO ANDREW, MIKE SPROWER AND FAMILY, BRUCE LINDAMOND AND FAMILY, CHARLIE AND FRAN REEDY AND FAMILY.
We have grown to 171 Members plus their families. We look to continue to work towards the growth of both our Club and our Show in the future.
Written by Jim Hurst, one of the founding members.